TOP COMBINE - ZHI SHANG LI HE - 至上励合
Top Combine, a 5 member boyband from Mainland China, is growing fast in the music industry. This group consists of 4 Chinese members, previously a part of Super Boys and one mysterious Korean member. With singles and their first EP out (debuted on October 19, 2008), you will see already many girls screaming their names. They are a part of two companies, Tianyu Media group(China) and Doremi Media(Korea). TC dedut MV, Arrival, was directed by the same person who directed one of DBSK's MV so there are many similarities between the two videos. With many other boybands emerging into the music world, Top Combine will have to continue doing what they do best, the best they can.
Label: EE Media
Official Fan Club: Seraphim
Official Color: China Red
Credit to Seraphimlove
Profiles:
Zhang Yuan
BIRD
张远
[/url]
1st Appearance in 2007 'Super Boy' competition
Birthday: June 2, 1985
Birthplace: Chuzhou, Anhui
Nickname: "Piglet"
Height/Weight: 181cm/60kg
Blood Type: O
Zodiac: Gemini
Personality: sunny, easygoing, calm, steady, sometimes like a cute and spoiled little kid
School: Nanjing University of Finance and Economics
Profession: Business Administration
Best abilities: Singing, Basketball, Street dancing
Favorite color: Black, White, Sky blue
Favorite food: Sweet, KFC chicken flavor refers to suck
Favorite singer: H.O.T, Azhe
Favorite movie: Forrest Gump, Death Note, The Devil Wears Prada
Pet phrase: No
Ideal girl: Wise
Li Mao
CAESAR
李茂
1st Appearance in 2007 'Super Boy' competition
Birthday: June 2, 1986
Birthplace: Hefei, Anhui
Nickname: Mao Mao ("Cat"), Mao Ge ("older brother Mao")
Height/Weight: 183cm/68kg
Blood Type: O
Zodiac: Gemini
Personality: Optimistic, Powerful, Sense of Responsibility, Masculine Charm
Family: Father, Mother
Best abilities: Acting, Dancing, Table Tennis
Favorite color: Black, Blue
Favorite food: everything yummy
Favorite music: R'nB, Hip-Hop
Favorite singer: RAIN!!
Favorite movie: Forrest Gump, Titanic
Favorite actor: Rain, Tom Hanks
Ideal girl: Kind hearted, nice to parents, healthy, sporty and sexy :-)
Ma Xueyang
MARS
马雪阳
1st Appearance in 2007 'Super Boy' competition
Birthday: Sept 30, 1986
Birthplace: Chengdu, Sichuan
Nickname: Dao Dao ("Knife"), Ma Xueqin (Qin=violin,piano etc.), Ma Dachu ("Head Chef Ma")
Height/Weight: 180cm/53kg
Blood Type: O
Zodiac: Libra
School: Sichuan Conservatory of Music
Profession: Philharmonic Violinist
Best abilities: Violin, Guitar, Bass, Jiazi Gu, Music, Dance, Writing/Composing, Soft smile
Hobbies: Cooking, Raising small animals, Movies
Favorite color: Black, Red
Favorite food: Steak, Crab, Hot pot
Favorite fruit: Orange juice, Tomatoes, Grapes, Strawberries
Favorite sports: Basketball, Football, Billard
Favorite country: China
Favorite singer: lot of Chinese and foreign ones
Favorite movie: The Mind Eraser
Favorite actress: Kim, Kelly
Favorite actor: Jim Carey
Favorite book: Those about Ming
Favorite brand: Maserati
Ideal girl: Who loves music like he does
Liu Zhoucheng
KENNY
刘洲成
1st Appearance in 2007 'Super Boy' competition
Birthday: Feb 28, 1988
Birthplace: Zhongshan, Guangdong
Nickname: Xiao Mei ("Little Pretty")
Height/Weight: 177cm/55kg
Blood Type: O
Zodiac: Pisces
Personality: Moderate
Family: Parents, Sister
School: Guangzhou Television Performing Arts Department
Best abilities: Being 'Shuai', Styling his hair, Performing, Make people fall for his individuality
Hobbies: Looking into the mirror, Taking photos, Singing, Performing
Favorite color: Yellow, Black
Favorite season: Winter
Favorite food: Snacks, Sushi, Coca-Cola
Favorite city: Hangzhou, Shanghai, Beijing
Favorite sports: Soccer
Favorite singer: Li Na, Jay Chou, Wilber Pan, Wu Kequn
Favorite movie: Romance, Drama
Favorite cartoon characters: The little Ding-Dong
Hates: Fake people
Pet phrase: Baby, Shuai ah, Then, Lovely
Ideal girl: Chubby kind of
Kim Eunsung/Jin Ensheng
TANAS
김은성/金恩圣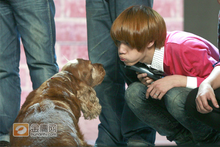 Birthday: Sept 17, 1988
Birthplace: Korea
Nickname: Xiao Wu ("Little Five")
Height/Weight: 180cm/62kg
Blood Type: B
Zodiac: Virgin
Personality: Ming!!
Family: Mother, Sister, Dog ;-D
School: University of Arts Baekje
Profession: Music
Best abilities: Piano, Being cute!
Favorite color: Red
Favorite season: Spring
Favorite food: Fried rice
Favorite fruit: Apple
Favorite city: Seoul
Favorite singer: Ne-Yo, Justin Timberlake
Ideal girl: Who believes in herself
Credit to TCParadise
Some things to know about them:
- They only trained 6 months before debut- they weren't trainees, but rather, they, with the exception of Eunsung, were picked from the contestants of 'Super Boy' and trained.
- Eunsung, the Korean member, hosts on Tian Tian Xiang Shang, a popular Chinese show.
- Xueyang composed Happy Departure, Radiance, Sweet Heart, End the Fight, Star-Studded Sky, and Cotton Candy, which was the hit song that made them famous.
- In their second album Qi Tian Da Sheng, Zhoucheng wrote the lyrics to Goodbye My Love, Eunsung wrote the lyrics to Love Live, Zhang Yuan wrote the lyrics to Child Who Speaks To Wind, and Li Mao wrote the lyrics to Party Time.
Credit to InfiniteLY